Ford Truck Radios
We carry Ford Truck radio replacements that fit the original dash openings of the following year models: 1951-1952, 1968-1972 and 1973-1979 Ford trucks. All of our Ford Truck radios feature an auxiliary input so that you can play music from an iPod, iPhone, Android, satellite radio tuner, or other device with a headphone jack through the speakers of your classic Ford truck. A radios come with a two-year warranty and licensed by Ford with the Ford logo on the front of the radio.
The USA-230 Ford truck radio is an AM/FM radio with an auxiliary input and 200 watts of power. If you prefer to play your old cassettes, this radio has an AM/FM tuner with a cassette player radio and auxiliary input. The USA-630 has the same features of the USA-230, plus USB port, a CD Changer controller, a direct iPod connection and the ability to add Bluetooth by purchasing the BluKit Bluetooth accessory. For the 1953-1967 Ford truck models, we do not have original replacement radios that fit your original dash opening without you having to make modifications. If you have a radio within these years, you have two options. Please refer to our
Custom Radio
or
USA-4 DIN Size Radios
.
More Info on Ford Truck Radios
1951-1952 Ford Truck Radio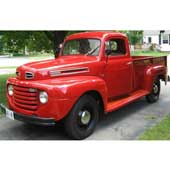 First Generation Ford Trucks were introduced during the post, World War II era. In 1951-1952 revisions were made to the cabs, hoods and even the dashboard. As you restore your classic Ford truck we want to ensure you're able to maintain all of these vintage elements while also incorporating modern features such as a stereo radio.
We offer four different radio options for your first generation Ford truck that will fit in your dash without any cutting required and offer modern features such as a digital tuner and an auxiliary input. Our models from Custom Autosound have a classic, analog look while the radio is turned off and a digital display when the radio is turned on. The three models vary based on features from a basic AM/FM radio, to a cassette player to a full technology upgrade with the ability to add a CD changer and Bluetooth adapter.
If an exact working replica of your stock radio has been difficult to find search no more. Our radios from Antique Automobile Radio look identical to your original radio, with a moving needle and mechanical push buttons. The bonus of these OE replica radios is the modern internals, a digital tuner for high quality and stable reception and 180 watts of constant power. These radios are available with or without speakers that will fit in the original dash as well.
1953-1967 Ford Truck Radio
We offer 3 different solutions for 1953-1967 Ford Truck radios. Many of the early Ford trucks did not have a radio opening in the dash and many of the radio openings for the Ford trucks of the 60's will not fit as the opening is too small or the knob spacing does not work. Our solution is either the Secretaudio SST, the Secretaudio SRMS, or the USA-4 DIN radios. If your dash has not been cut, do not hurt the value and vintage look by cutting the dash of your classic Ford truck, rather install a Secretaudio system and keep the dash in tact while still cruisin' with your tunes. If your dash has been cut for a DIN size radio, we offer two different radios to give it that classic look instead of a Vegas style light show in the dash of your classic Ford truck.
1968-1972 Ford Truck Radio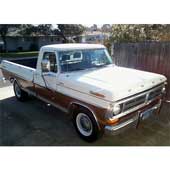 We offer three different radios made by Custom Autosound that fit classic Ford trucks from 1968-1972 Ford truck models. These radios feature an auxiliary to hook up your classic iPod, iPhone, smartphone or satellite radio tuner. Custom Autosound radios that are compatible with this series of classic Ford trucks are: USA-630, USA-230 and the USA-1. All three radios offer basic AM/FM function, however other features vary by model.
1973-1979 Ford Truck Radio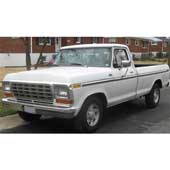 If you have a sixth generation Ford Truck we have what you need to enhance the sound output to help you enjoy your classic Ford truck. A common feature among all three radio models we offer include an RCA, auxiliary input on the back of the radio to allow connection of an iPod, iPhone, smartphone or satellite radio tuner all which play music through the speakers. If you're looking to give your classic Ford truck Bluetooth capability that is also available too in addition to stereo sound. All radios are manufactured by Custom Autosound with a two year warranty and are officially licensed with the Ford logo.
1980-1986 Ford Truck Radio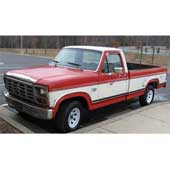 Seventh generation Ford trucks although more modern than their previous decades may still require a replacement radio over time. The three replacement radio options we have available, manufactured by Custom Autosound are the ideal solution for 1980-1986 Ford trucks.
All models we carry will fit in your original dash location without any modifications required and feature modern technology to include an RCA auxiliary input. An auxiliary input allows you to play any device with a headphone jack through the speakers of your truck. We carry the USA-230 if you need a basic AM/FM radio with an auxiliary input. If Bluetooth technology is a must have to make your truck equipped for safe, hands free communication we offer the USA-630 which can be connected a
Bluetooth
adapter.